Online slots rules
Here at Privilege Casino you know that Online Slots are the most popular gambling games for players. It is not for nothing that we find these games by the hundreds on the portals of our online casinos.
To play, you don't need to download any software, all you need is a PC, iPhone, iPad, or Android phone / tablet.
But online casinos are not the only ones with a majority of slot machines, land-based casinos are no exception to this rule and have many more "Slot Machines" than other table games!
The real big difference between these two types of casino is found mainly on the nomadic format of online casinos, but also on the RTP (rate of return to the player) which is much higher than the rate of land casinos.
How did we get there? What are the strategies and rules for online and land-based slots? Stay with us to find out more!
History of slot machines
Slot machines, as mentioned above, are one of the strengths of both land-based and online casinos.
The history of slot machines begins in 1898 in the United States. Created by Charles August Fey, the first slot machine was called "Card Bell", this first machine was very inspired by automatic roulette machines.
Charles August Fey did not stay on his first success and declined "Card Bell" to "Liberty Bell" the following year and enjoyed phenomenal success for the time. This is the first slot machine we see with 3 reels and 5 symbols. Since then, the fundamentals of slots have remained the same, offering hundreds / thousands of possible winning combinations and creating tremendous feelings of satisfaction when the winnings arrive!

How slot machines work?
The main rules of slot machines are the same throughout the ages. The first of the rules is that each slot machine has different paylines, these same paylines are the goals you should aim for in order to get the most wins possible!
In physical casinos you will find slot machines with classic operation, was a time when players had to use coins to start a game with the lever, today casinos provide you with an internal credit card to play these games. .
Each time you play, this card will be debited by the amount of your bet for convenience!
Regarding bets, several options are available to you to play:
Bet One: You choose which lines you bet your money on until you are happy with the setup! This allows you to choose the paylines one by one.
Bet Max: This option allows you to bet directly on all possibilities
Cash Out: On physical slots, it is possible to recover coins that have not yet been used in a Spin if you feel the luck is turning!
Coin Value: Allows you to define the monetary value of a chip (example: 1 chip = 2 €, if you bet 10 chips per spin, you bet 20 € per spin)
Symbols: Symbols each have their paytable depending on their positioning in relation to the others and the combinations they create. In many slot machines there are wild bonus symbols that can be combined with all other symbols and increase the winnings, keep an eye out for them!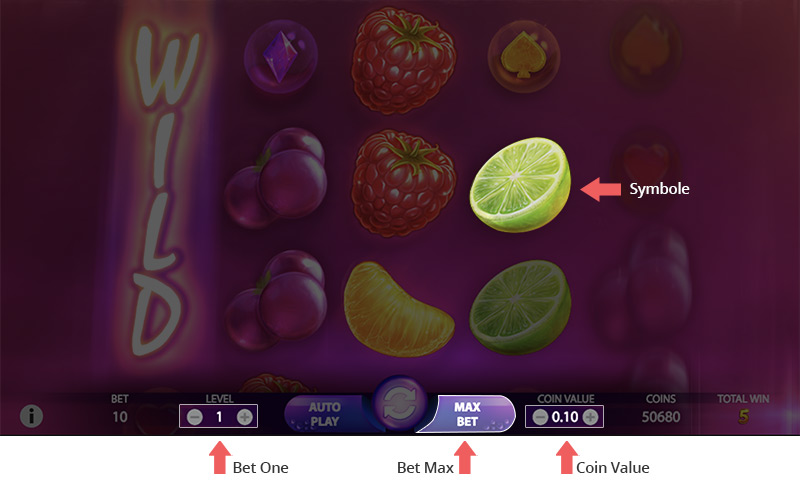 Whether online or in a land-based casino, these rules will hold true in the vast majority of cases. There are also specific rules that may apply to online slot machines which can be very different depending on the type of slot. We have a wide range of online slots available for trial at Privilège Casino, so be sure to read our reviews to learn all about the rules of your favorite online slots!
In the majority of cases, with online and mobile slot machines, you will be able to bet from a few cents to more than ten or even a hundred euros with an RTP (rate of return to the player) above 94%!
Slot machines glossary
Slot machines have their own lexicon when it comes to bonuses and features, here is a quick tour of these terms that you will often come across at Privilege Casino:
Wild: The Wild is a bonus symbol which allows you in the majority of cases to create improved winning combinations with all paying symbols, excluding other bonus symbols. They often save the bet for many online casino players by appearing to validate a nice payline that would not have been activated without them.
Scatter: The Scatter is also a bonus symbol that gives you access to the "bonus games" offered by the various online slots. These bonus games are often Free Spins, but can be very different depending on the slot machine you are playing. To find out what kind of bonus game awaits you, don't hesitate to read the slot machine review offered by Privilege Casino.
FreeSpins: These are the Free Spins that generally act as a bonus game. Free Spins are, as the name suggests, a time when you can play for free. They are often complemented by other bonuses such as more and more persistent win multipliers.
Autoplay / Autospin: This feature is available on all modern online slots. It allows you to define a sum of loss and gain not to be exceeded, a sum per spin and a number of spins to launch the reels automatically without having to click the button indefinitely to play!
Jackpots: Jackpots are colossal winnings that cannot be accessed directly by normal gambling methods. In the world of online slots, Jackpots are often progressive and allow you to win big. In short, the more the slot machine is played, the more colossal the jackpot, especially since you are connected to other players who also fulfill the same jackpot!
Slot machines events
A little less present on French-speaking soil, events such as Slot Machine Tournaments can exist in online casinos, which creates a tournament in different categories and which allows players to obtain prizes as always. more money or bonus winnings on some slot machines.
Like Sit'n'Go table game tournaments, Online Slot Tournaments require no registration other than your favorite online casino. You just have to play in the category that interests you to win prizes and maybe get first place in this tournament.
For example, you can participate in a winning competition on MEGAWAYS ™ slots or even participate in a race to win and come first to a certain amount to get your reward.

Playing responsible and should I bet on the Progressive Jackpot?
It is tempting to want to bet everything on Progressive Jackpots to win large sums of real euros. However, because there is always a counterpart, the chances of winning this Progressive Jackpot are minimal, because at the same time as you thousands, see hundreds of thousands of other players try their luck which inevitably reduces your chances. 'get that jackpot.
Be careful, we're not saying it's impossible, we're just saying weigh the pros and cons and play responsibly. Never bet more than what you can bet. Never, use money that you would use for something else that would be more useful for other than gambling online.
With the issue of Progressive Jackpots we want to ensure that you can play in complete safety without finding yourself "in the straw".
Only bet what you are prepared to lose and do not exceed that amount, set yourself limits. If these are the thrills that appeal to you go wager on Progressive Jackpots at your favorite online casino, if not, play simpler slots which have a better chance of rewarding you in the base game regardless of Jackpot.