History of Megaways ™ slots
The MEGAWAYS ™ slot machines are today a whole genre in the slot machines available in the market. Appreciated by many players, the latter allow the most determined among us to win big thanks to their main feature which is the division of the reels independently of each other. Together, let's take a look at the history of this feature that has become a full-fledged brand in the world of online slots.
How do Megaways ™ slot machines work?
In order to explain how Megaways ™ slot machines work, let's take the example with a 6 reel slot. Each reel can have a minimum of 2 symbols and a maximum of 7 symbols.
If the 6 reels get the maximum number of symbols, it is possible to win 117,649 different ways (7 x 7 x 7 x 7 x 7 x 7 = 117,649).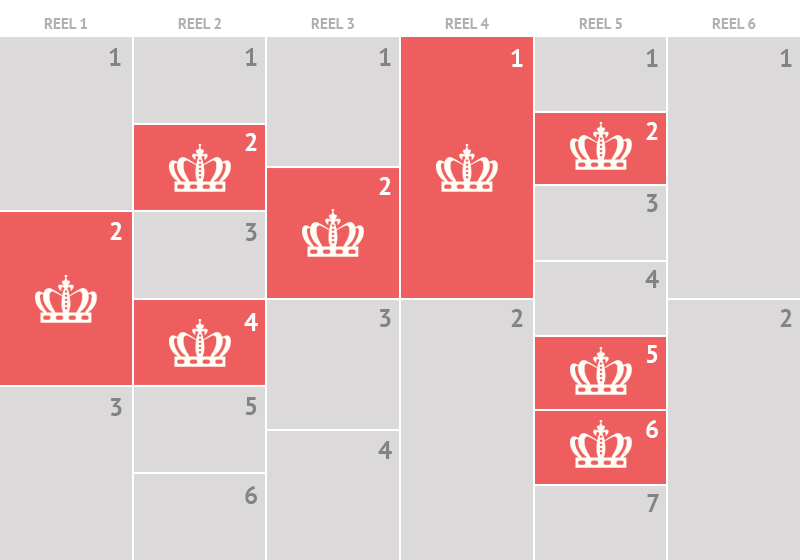 In the example below, we can see that the slot displays:
• Reel n°1: 3 symbols
• Reel n°2: 6 symbols
• Reel n°3: 4 symbols
• Reel n°4: 2 symbols
• Reel n°5: 7 symbols
• Reel n°6: 2 symbols
So you can win in 2,016 different ways (3 x 6 x 4 x 2 x 7 x 2).
In our example, you have 6 consecutive winning symbols (1 x 2 x 1 x 1 x 3) in red. Its symbols are identical (may also include a Wild symbol). You will therefore receive winnings (corresponding to the value of the symbol).
Origin of MEGAWAYS ™ slots
All great stories have a genesis, that of MEGAWAYS ™ type online slots began in 2015 in Australia at a development studio called Big Time Gaming. Founded in 2011 by Nik Robinson, this company has since its inception been looking for new mechanics to add to online slot machines that are taking up more and more space.
The MEGAWAYS ™ brand was born in an environment that was already very mature in 2015 with the "Dragon Born" slot machine. This shy appearance will only be talked about in 2016 when the Bonzana slot machine, still developed by Big Time Studio, enters the market and seduces both players, online casinos and the competition.
From that point on, all online slots development studios will develop their own MEGAWAYS ™ slots.
What are the advantages of the MEGAWAYS ™ slot machines?
No matter the medium (iPhone, Android or Web), the nationality or even the location of a player, what makes him an avid online slot machine comes from the thrills that this type of game gives him. MEGAWAYS ™ online slots fully fulfill this role of extreme thrill giver thanks to their random operation which can pay off very big for players.
Very often with a functioning of 6 reels which can be divided from 2 to 7 symbols, the MEGAWAYS ™ offers you frantic game mechanics which come to titillate your greatest instincts of treasure hunters.
With the example given above, the number of winning combinations goes up to 117,695 for 6 (reels) to the power of 7 symbols.
No need to explain to you that with such chances, players rushed, rightly, to this type of game that has become a whole genre within online slot machines.
How to win with MEGAWAYS ™ slots?
Where usually you can win in a very well defined way by lines (hence the term payline) with classic slots. The MEGAWAYS ™ slot machines offer you winnings from the moment you get the same symbol on adjacent reels, without them being aligned, which gives you, as previously mentioned, countless more chances. to win large sums in real euros at your favorite casinos.
How did MEGAWAYS ™ slots win over gamers?
The success of the Bonzana slot machine is no stranger to the democratization of MEGAWAYS ™ slots, but that's not all. Faced with this unprecedented functionality, historical publishers have also started to implement their MEGAWAYS ™ solutions. The success of their slot machines then prompted Nik Robinson and BTG (Big Time Gaming) to create a licensing system to offer all market players the chance to take advantage of the technology they had developed.
Here is a selection of our favorite MEGAWAYS ™ slot machines.
Learn to play casino games